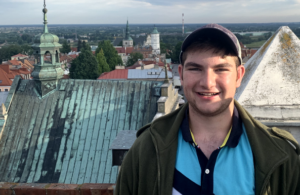 Dylan Pines, 18, is a recent graduate of Marquette High School in Chesterfield, MO.
Dylan says he doesn't have any relatives who perished in the Holocaust – but that's precisely why he joined TJJ Ambassadors Poland.
"It was very important to me to establish a connection," Dylan says.
He adds that he experienced that connection most when the group visited some of the shtetls, small villages, Poland is famous for.
"To see it and to think that my great-grandparents could have been living there was an experience that connected me to Jews of the past, as well as those in present," he says.
Dylan adds that the highlight of the trip was the Shabbat the group spent in Krakow.
"[Until then,] all we saw was a lack of Jewish life, and then I saw a Jew walking to shul on Shabbat," he recalls.
The group marked the end of Shabbat by taking a walking tour through Krakow.
"We were in the Warsaw Ghetto and we were singing 'Acheinu,' ['Our Brothers,' a song about Jewish unity,] and a group of Chassidim walked past," says Dylan. "And they joined us, and we were one Jewish people, united, pridefully singing. It didn't matter that I'm a Reform Jew and they are Chassidic."
For Dylan, who will be attending Case Western Reserve University in Cleveland, OH, this fall, the trip was also a milestone of sorts.
"There's a level of maturity [it takes] to be on this trip," he says. "And I think when I look back, it will be a major part of my continuum from childhood to adulthood. It will ultimately prove to be what transitions me from childhood to adulthood."
And as he heads off to college, Dylan says he'll take the experience – and deep feeling of connection with what he calls "Jews of the past and Jews of the present" – with him.
"A witness to a witness become a witness," he says, paraphrasing Nobel laureate and Holocaust survivor Eli Wiesel. "And now I'm a witness."