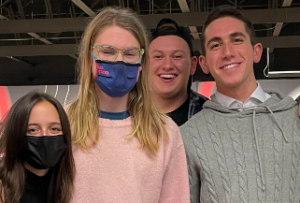 When Eli Sklar (right), an NCSY advisor from New Jersey, recently staffed a Memphis Sh abbaton, he was surprised when a teen advised him to take off his kippah before entering the local mall because "it's not so safe."
It was that conversation, he says, that made him realize for the first time that "these NCSY teens live with a fear and concern about antisemitism." And as a mentor to these teens, Eli wanted to know what to do about it.
Thanks to a new training sponsored by the Crain-Maling Jewish Leaders Mentorship Program, Eli got his answers.
The training, led by StandWithUs and developed specifically for NCSY advisors, was held online in December. At the training, the advisors learned how to identify antisemitism, the reasoning behind it, and its impact.  Most importantly, they were empowered to help teens who face it, regardless of the form it takes.
Becca Kaufman, an advisor from the Five Towns, NY, and a senior at Stern College, says after attending the class, she feels better equipped to "be there" for teens who experience antisemitism.
She says that while the NCSY teens she has mentored don't all experience antisemitism regularly, many "don't feel like they can truly be themselves" because they may be discriminated against. She recalls how one teen described that when tensions are high in Israel, she feels scared to come out in support of Israel.
"If a teen comes to me after experiencing some form of antisemitism, I will know how to talk it out with them better, and I will be able to validate them better and work with them on next steps to take," she says.
Advisor Nava Yastrab from Long Israel, NY, who is currently pursuing a degree in psychology, agrees, saying she plans to use the takeaways from the class "to let teens know that they are not alone."
She adds that she's no stranger to antisemitism, having experienced it during virtual course discussions, with professors implying certain biases they have toward Judaism or Jews.
"[I want] to educate teens on ways in which they can deal with these situations and to empower them to speak out if they see something happening," she says.
As for Eli Sklar, he didn't take off his kippah at that Memphis mall, and he doesn't plan to anytime soon. If anything, the class only highlighted for him the need to help Jewish teens feel proud of their Jewish identity.
"My biggest takeaway from the program is that antisemitism is real and is only on the rise," he says. "Especially with NCSY teenagers who live in small Jewish communities, we as advisors have to help strengthen their Jewish pride while making sure these antisemitic experiences or fears do not discourage them."