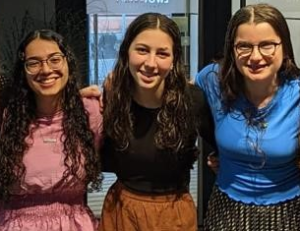 Eden Iseman (center), 16, is an incoming junior at Blue Valley North High School in Overland Park, KS.
She says she didn't expect the trip to Poland to be so emotional – or meaningful.
"I'm happy I went because it really was an important experience," Eden says. But she concedes the experience was challenging.
"For me Chelmno [extermination camp] was the hardest. What made this place horrible was how real it felt when people picked up human bones from the ground. It hit me that we were walking over dead bodies," she says.
But it was at another, similar camp where Eden experienced what she describes as the highlight of the trip.
"It was at the gas chambers at Majdanek," she recalls. "I had already been crying before even walking into the building. And then Rav Shaloni, our tour guide, talked about how the Shema was the last thing [the people] said before dying, because they knew what was happening.
"Then we started singing Shema.
"I don't really know how to describe it, but that moment was the most meaningful moment of the trip for me," she says.
For Eden, the trip was a chance to grow as a person – and as a Jew. She says she has more questions about Judaism and feels more connected to Israel.
"I won't really know how much it changed me [as a Jew] until I have been back in Kansas for a while," Eden concedes. "But right now, I want to keep learning as much as I can and be the best version of myself."