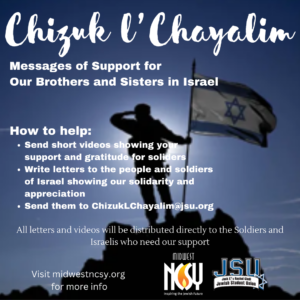 Chizuk L'Chayalim is an initiative of Midwest NCSY to show our support for the people of Israel during these difficult times.
How you can help:
Send a short video showing your support and gratitude to the soldiers of the IDF
Write a letter to the people and soldiers of Israel showing your solidarity and appreciation
Specific groups of people/suggestions for submissions:
Wives of the soldiers who have been deployed
Children of soldiers who have been deployed
Soldiers who are currently on the front lines
Yeshiva students who are in the army who will be encouraged by your stories of taking on a Chessed or mitzvah in their merit
Families who have been affected by terror
Soldiers who are from Chicago and would love to hear how people from their home town are thinking of them

Israeli high school teens who would love to hear support from teens in the US
In your letter/video, please include your name, where you are from, and your age/grade so the recipients can feel the personal connection of your messages. Feel free to speak in either English or Hebrew, as we have recipients who speak both languages
Send your videos, letters, and messages to ChizuklChayalim@jsu.org
Your messages will be distributed directly to the soldiers & people of Israel who will benefit from your encouragement and words of support.
One group that we will be sharing messages with is a combat unit of Givati Yeshiva students from Yeshivat Hakotel and Karnei Shomron, who have a special connection to Midwest NCSY as the former unit of Chicago NCSY Director Kobi Greenfield. This project is dedicated in the merit of their safety and success.