Teens Share Their 'Most Meaningful' Shabbaton Moments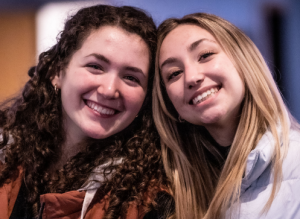 For Charli Ernstein (left), a Kansas native and junior at Ida Crown Jewish Academy, the highlight of Shabbaton was the dancing at pre-Shabbos ruach and havdalah."Not all of the girls necessarily knew each other, but we still danced together, pulled each other into the middle, united as Jewish teens and had a great time," she says.
Dena Freiden (right), a junior at Margolin Hebrew Academy in Memphis, adds that she felt that unity even more on Shabbos when everyone "unplugged."
"On Shabbos we have at least 25 hours without our phone or any other devices. This allows everyone to interact with each other without distractions."
---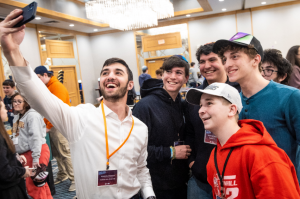 Nachman White (center), is a junior at Shawnee Mission South High School in Overland Park, KS. A regional Shabbaton first-timer, he says the event was a great way to "meet new people, make new friends and have fun."
He came to the Shabbaton along with a group of public school and community school teens led by new Kansas NCSY/JSU Director Aharon Zazulia (left), whom Nachman describes as "amazing."
"He always has something fun planned," says Nachman, "and I am never bored."
---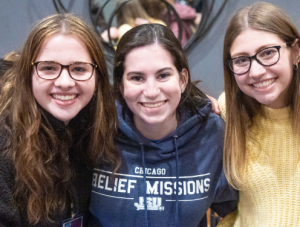 Callie Fidler (left) is a junior at Minnetonka Senior High School in Minnetonka, MN. For her, the highlight of Shabbaton was getting to spend time, in person, with many NCSY college-age, volunteer advisors, including Kaylie (center) and Vika (right), with whom she already learns via phone.
Callie describes the advisors as "incredible Jewish mentors" who have impacted her in many ways. "They've helped me gain a new perspective of Judaism and inspired me to cultivate an incredible relationship with G-d, which has completely changed my life," she says. "The relationship I have with my advisors is such a unique one, which you can't really find anywhere else."
---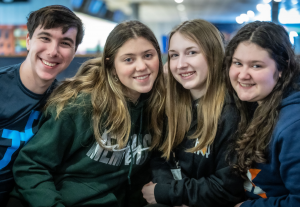 For Yael Cooper, (2nd from left), a senior at Margolin Hebrew Academy in Memphis, TN, the Shabbaton experience encapsulated what NCSY is really all about.
"NCSY is an opportunity for Jewish teens to learn more about their Judaism and to grow," she says. "It's also an opportunity to meet Jewish teens from all over and a great way to connect with others from different schools and religious backgrounds."
On the Shabbaton, Yael says she enjoyed meeting new teens "and growing spiritually and religiously."
"I love NCSY," she says.
Photo credit: Etan Vann