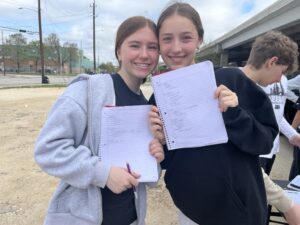 For Lindsey Svrusis, (left), a 16-year-old sophomore at Vernon Hills High School, there wasn't one specific trip highlight. Rather there were moments of what she calls "just pure joy."
"Singing karaoke in the van with all my new friends, laughing while painting the sides of a house, smiling ear to ear while handing food we made to homeless people, or having genuine conversations with the advisors," says Lindsey. "These were all moments where there were no stresses of school, sports or anything else."
Lindsey says that while she's grateful for the joy she experienced and the new friendships she made on the trip, she is also grateful that she had the opportunity to go out of her comfort zone.
"This trip has made me realize that sometimes you have to challenge yourself and step out of your comfort zone to learn so much more," she says.
Lindsey explains that she came on the trip "not very connected to Judaism" and was unsure of what to expect.
"I was nothing but pleasantly surprised," she says. "I learned it's a good thing to try something new and listen to other people's perspectives in order to widen my own view."
And as a result of the mission, she says, "I feel more connected to Judaism and am now able to think about life in general in a deeper, more meaningful way."