Teens Share Their 'Most Meaningful' Houston Relief Mission Moments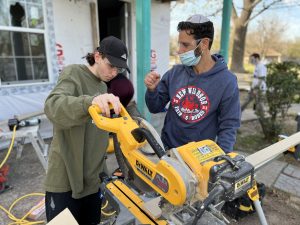 Shai Kaszynski (left) is a junior at Deerfield High School. For him, "building the house" was a trip highlight.
"The house" is a Houston home that had been owned by a local African-American family for generations. It sustained considerable damage in Hurricane Harvey, and the Browns haven't been able to live there for the past four years.
Shai and other mission participants painted walls, installed window and door frames, and did many other repairs to help make the home inhabitable.
"I really enjoyed putting in the work and seeing all the things we accomplished," Shai says.