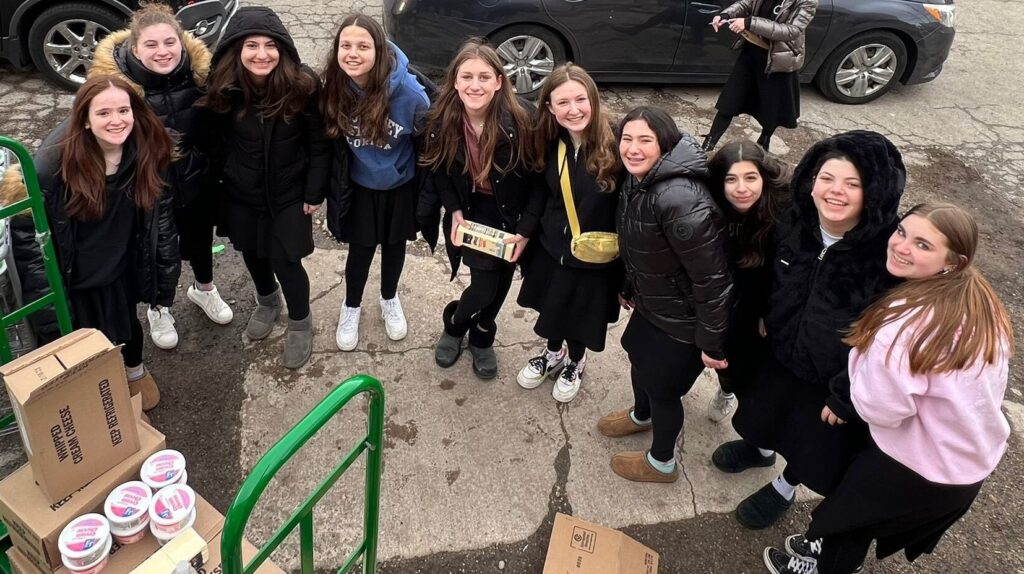 It was one of the busiest Sundays of the year, but nearly 120 volunteers, most of them NCSY teens, spent much of the day this past Sunday at the Chicago Chesed Fund, helping prepare and distribute Pesach food packages to over 300 families in the community.
The volunteer effort was coordinated by Alyssa Lerer, Midwest NCSY's Volunteer Coordinator, and brought together preteens, teens, and parents from Jewish Family Experience, Hillel Torah Day School, Arie Crown Hebrew Day School, Ida Crown Jewish Academy, Hanna Sacks Bais Yaakov High School, and several local public high schools.
"It was truly a pleasure to host and work with the NCSY teens," says Rabbi Yossi Fuerst, Chicago Chesed Fund Executive Director. "The assistance they provided allowed us to service over 300 families quickly and efficiently. We could not have done it without their help! We are proud of and grateful for our partnership with NCSY."
As part of the Pesach volunteer effort, some of the teens filled orders inside the Chicago Chesed Fund warehouse, collecting eggs, dairy, fish, chicken, meat and produce from the commercial freezers and packaging them together. Other teens braved the cold, packing recipients' cars with the much-needed Pesach supplies.
Many of the teens commented that "giving up" their Sunday for a greater cause was more rewarding than they had expected.
"Me and my friends worked practically nonstop, but if we were the only ones there, we would never even come close to finishing everything," says Anna Yudovich (left), an 11th grader at Deerfield High School.
"It just shows the power of so many people working together toward one goal, and how if we direct our intentions into one direction, we'll accomplish so much more than we ever could individually," she says.
Rivka Kost (third from right), a 10th grader at Hanna Sacks Bais Yaakov High School, shared a similar sentiment.
"Being involved in such a large-scale chessed initiative helped me connect with my community by giving to others," she says.
Many of the participants also commented that being on the giving – rather than receiving – end made them feel grateful.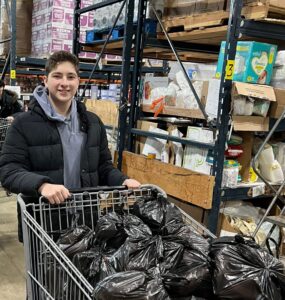 Ami Weiss, a 10th grader at Ida Crown Jewish Academy, is one of them.
"[It] made me feel grateful for the fact that my family could put food on our table. It showed me that there are many families who struggle to get food on their table.
"I learned to not take it for granted," he says.
Brooke Rosenthal, (center in silver coat), a 6th grader at Hillel Torah Day School, is grateful that she can give to others.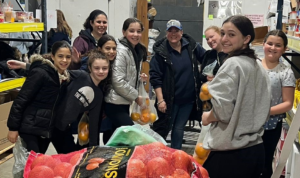 "I feel grateful for being part of a group of friends that enjoys doing good things and helping people," she says. "And I felt happy that I was able to help a lot of people."
Perhaps Zahava Volkov, (2nd from left), an 8th grader at Arie Crown Jewish Academy, summed it up best when she had this to say about her experience.