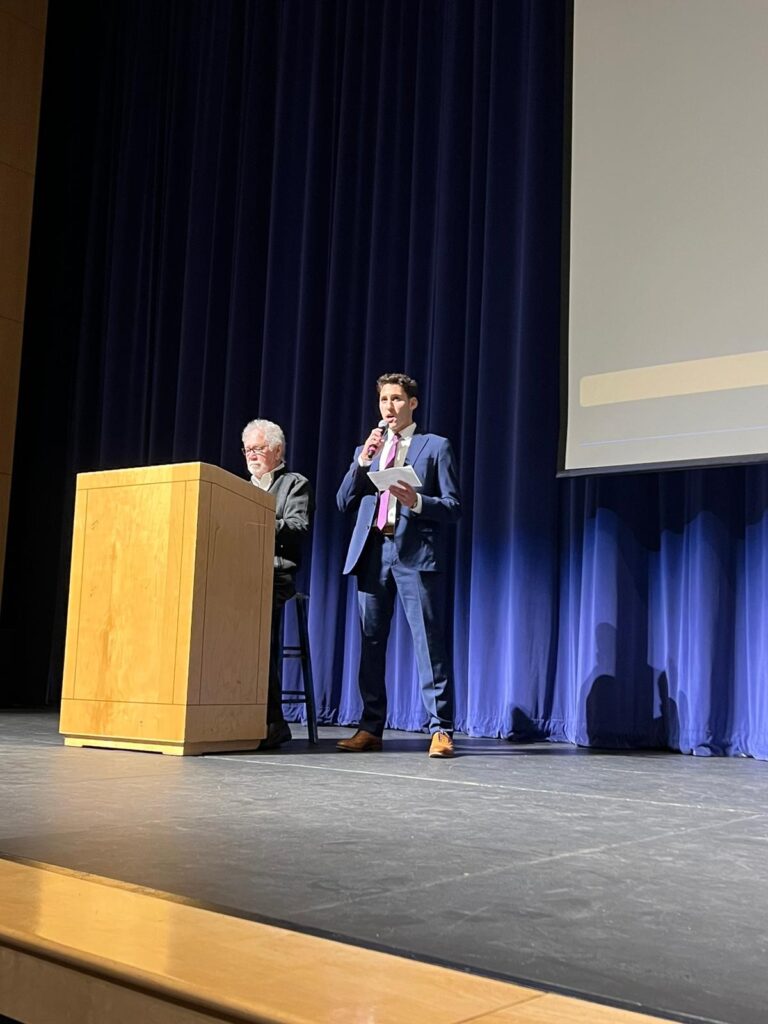 Sam Badzin, President of the Jewish Student Union (JSU) club at Hopkins High School, was responsible for giving over 600 teens and staff members of all faiths the opportunity to celebrate Yom HaShoah in a meaningful way last week.
Sam arranged for local Holocaust survivor Manny Gabler to address the Hopkins student body. Mr. Gabler, 85, one of just a few remaining survivors in Minnesota, shared the harrowing tale of his family's escape from Nazi Germany and how he was raised in a Shanghai ghetto.
According to Sam, bringing Mr. Gabler to Hopkins was the fulfillment of a promise he made to himself a year ago when Yom HaShoah was just another day on the school calendar.
"I thought [back then] I should really do something because nobody else will otherwise," he says.
Sam wasn't quite sure how he could change things, but last summer while serving as an intern with StandWithUs, he heard that other interns had brought Holocaust survivors to speak in their public schools.
"That planted the seed in my head, and it's been a goal of mine ever since," he says.
As JSU President, Sam discussed the idea with his Jewish peers, but many were skeptical, thinking students wouldn't show or that some might be disrespectful.
While Sam concedes he was nervous, he went ahead with his plan.
"Right before [Mr. Gabler] started speaking," says Sam, "I looked out at the auditorium and saw almost the entire first floor of the auditorium full. I felt super accomplished that I was able to pull it all together."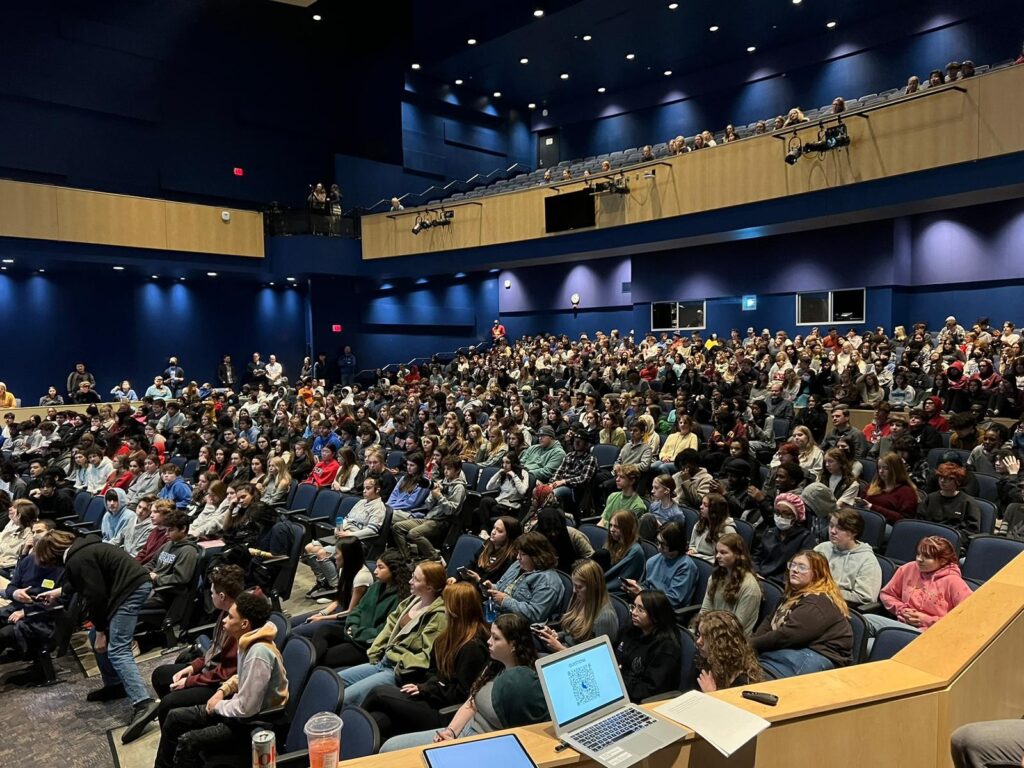 Many of the JSU teens who attended the event said they felt the event – and its impact – were very powerful.
Senior Oscar Wolfe says hearing Mr. Gabler speak reminded him that there are very few survivors left who can tell their stories.
"When Mr. Gabler was asked if he was in touch with other survivors, he said he only knew of one in Minnesota, as all the others had passed away," says Oscar. "It reaffirmed my belief that it is now our generation's responsibility to keep the memory of those who were lost alive."
Fellow Senior Josi Fiterman said she was glad that she had the opportunity to hear Mr. Gabler speak – and that the program wasn't limited to Jews.
"It is important for people to hear stories – Jewish or not – to spread awareness and to stop future hate," she says.
For Junior Louie Schachtman, the event was the first opportunity he had to learn about Holocaust survivors in China.
"[Mr. Gabler's] story was incredible," says Louis, "and how he preserved and learned through his experience is inspiring."
Like Josi, Louis says he was glad teens of all faiths participated in the event.
"Antisemitism is rising every day, and we must hold uncomfortable conversations in order to educate others."
And while Louis feels more can be done to combat antisemitism in Hopkins High School, he calls the event "a great step in the right direction."
Sam Badzin agrees.
"The best feeling was listening to [Mr. Gabler] speak in that completely silent auditorium," says Sam. "Then when he finished, everyone gave him a standing ovation, which really showed how impacted the students and teachers were by [his] story.
"The event ended up being even better then what I envisioned."