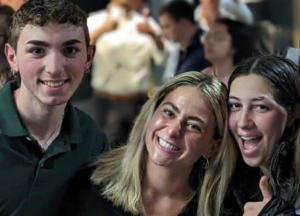 Shai Kazynski (left), 17, is an incoming senior at Deerfield High School in Deerfield, IL.
Shai says what surprised him most on TJJ Ambassadors Poland was finding life in the most unlikely of places.
"[We were in] the Warsaw cemetery," recalls Shai. "I was expecting to just see death and graves, but I saw so much life there. There were pictures and stories of each person on their graves, depicting their life story or an important part about them."
That's not to say the trip wasn't difficult.
"The hardest part was seeing how closely related not only my family is, but so many other kids' families were, to the Holocaust," Shai says. "It was hard to walk through the [concentration] camps and not imagine my family or others going through them years ago."
What were Shai's takeaways?
First, Shai says, he learned to be grateful.
"As I learned the horrible history of the Holocaust, I began to feel closer to Jews across the world. I know that it is an incredible miracle that we are all here today, which makes me appreciate being Jewish so much more than I ever have," he says.
Second, Shai says he learned about the power of resilience.
"Although the trip opened my eyes to the horrible tragedies and crimes that were committed, it also showed me how resilient I can be as a person," Shai explains. "It showed me that I have to fight and be passionate in order to make change."