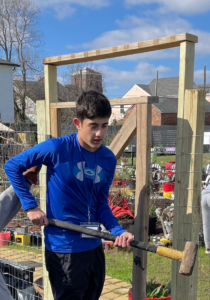 For Jonah Stein, getting to see the impact of his actions was the most rewarding part of the relief mission.
Jonah, a freshman at Blue Valley North High School in Overland Park, KS, says he felt that impact when the teens handed out socks, flashlights and coffee to the homeless, and when they volunteered at a community garden and an urban farm.
"I really enjoyed getting to see the smiles on people's face as we changed their lives and their community," he says.
Those smiles – and feeling that he'd made a real difference – impacted Jonah in a very personal and lasting way.
"It sparked a fire and passion for service in my [own] community," Jonah says.
He adds that because the trip was run through the lens of tikkun olam, it gave him "an appreciation for the Jewish community around the world."
"I think that the part that stuck with me was seeing how connected and passionate we all were to help and do good even when there is so much hatred in the world," he says.