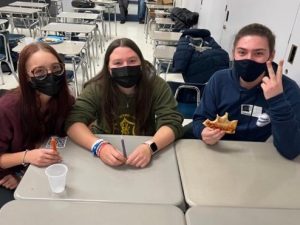 A spate of threats against the Israel Club at Niles West in Skokie, IL, couldn't stop it from reopening its doors in early November – and continuing to run regularly since then.
"I wasn't going to let other people's hatred get in the way of us celebrating our culture," says Adina (center), a Niles West senior who serves as club president.
And while the backlash didn't come as a total surprise to Adina, she says she realized that if she wanted the club to run, she had to take a stand.
Adina has been involved with the NCSY/JSU-led club since her freshman year, and she describes it as "a place where I could go and feel safe." This fall, as president, Adina took charge of advertising and recruitment for the club, which was set to reopen in person after running remotely last year.
It was the club's name, and pictures of the Israeli flag and Kotel on the club flyer, that drew unexpected backlash. Nearly 150 people signed a petition demanding that the club change its name because they viewed it as indication that Niles West "is a safe place to disregard Palestinian lives."
Adina says that following the events that took place in Israel in May 2021, she realized that many of her classmates did not support Israel and were sharing anti-Israel views on social media.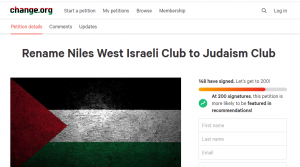 "Going into this school year, I was worried these opinions would be brought into school," she says. "Although I prepared myself to receive negative feedback, I was a little shocked at what people were saying and how much backlash we received."
But Adina didn't give up. She and Hebrew instructor Anna Raiber, who serves as the club's teacher sponsor,  took the matter to the principal.
Like Adina, Ms. Raiber was adamant about keeping the club open, despite the multiple complaints she received.
"I didn't expect students [to be] bothered by the fact that it's called Israel Club," says Ms. Raiber, who adds that the club, along with the school's Israel program, is important because "it's a small Jewish community inside a big, big school."
Thanks to Adina and Ms. Raiber's efforts, the principal supported the club's right to run and provided extra security when it first opened.
According to Ms. Raiber, though the situation was difficult, there was an upside to it.
"When something like this happens at your home or at your school, I think [the students] stop and think about antisemitism and being Jewish," she says. "[Until now,] they didn't realize that it's so close, that it is right here. And they need to be ready."
As for Adina, she, along with Chicago NCSY/JSU Director Rabbi Shmuel Katz, have gone full speed ahead with the club, giving Jewish teens of all backgrounds the chance to connect to Judaism, Israel, and each other.
"Our first few club meetings have turned out really great," says Adina, "and I'm excited to keep building off that and see what the rest of this school year brings."